Pentium compatible processor
Windows 95 through XP
PowerPoint 97 through 2003
32 MB RAM
600 MB of disk space
3D accleration hardware (recommended)
Ultimate Combo 16 (a $1,811 value) Save over 60%!
US$699
---
You might want to read these reviews on Indezine.com:
Ultimate Combo
Slides That Win!
PhotoActive FX
Headings
The PowerPlugs site has more detailed info.
---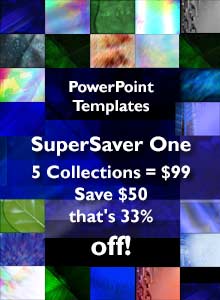 ---
---
---
Home > Other Products > Add-ins > CrystalGraphics > Ultimate Combo
PowerPlugs: Ultimate Combo
Add more energy to Microsoft PowerPoint for less!
---
Take your presentations to the next level with PowerPlugs: Ultimate Combo, our award-winning Powerpoint add-on suite! PowerPlugs: Ultimate Combo 16 includes all 16 of the current PowerPlugs titles — that's 30 volumes on 10 CDs in all — together in one convenient money-saving package.
PowerPlugs work seamlessly inside of PowerPoint and are incredibly easy to use. You'll dazzle your audiences with TV-style 3D slide transitions, sophisticated 3D charts, animated 3D titles, and much more! Three of the included titles also work with Word, Excel, Outlook and/or Outlook Express.
Get the entire suite of all 16 PowerPlugs titles, 30 volumes in all, for just $699. That's over 60% off the price of buying the same products separately. PLUS as a BONUS, until March 31 st you'll also get a sleek VersaPoint Communicator remote control for PowerPoint and the SereneScreen Marine Aquarium Crystal screensaver absolutely FREE!.
What's Included?
Transitions I, II, III & IV
Charts
Pictures (e-Coupon for 100 pictures)
Presentations to Go
ScreenSaver Creator NEW!
Music I & II NEW!
SuperShapes I & II
PhotoActive FX I & II

Templates I - VI
3D Titles I & II
Headings I & II
Quotations
Slides that Win!
Stationery
Stay Ahead of the Game!
Arming yourself with the most powerful presentation tools is one of the best investments you can make. They can strengthen your ability to influence others, which can help you increase your sales effectiveness and boost your career. After all, PowerPoint is a great starting point; but if you stop there, you're at risk of appearing boring and out of date. Energize your presentations with PowerPlugs: Ultimate Combo!
A Look At Each Title


CrystalGraphics
Video Backgrounds Player plus 109 bundled video clips More Info

CrystalGraphics
Flash Clips - 3D Motion Graphics 1
More Info


CrystalGraphics
Transitions
More Info


CrystalGraphics
Music Volumes I and II
More Info

CrystalGraphics
Charts
More Info

CrystalGraphics
PowerPlugs: Pictures Annual Subscription
More Info

CrystalGraphics
FlashReady
More Info


CrystalGraphics
Presentations to Go
More Info

CrystalGraphics
Templates for PowerPoint Favorites I, II, and III
More Info

CrystalGraphics
PhotoActive FX I and II
More Info

CrystalGraphics
SuperShapes I and II
More Info


CrystalGraphics
3D Titles
More Info


CrystalGraphics
Screensaver
More Info

CrystalGraphics
Quotations
More Info

CrystalGraphics
Slides That Win!
More Info

CrystalGraphics
Headings
More Info
PowerPlugs - Winner of three of the last four annual Standing Ovation Awards for "Best PowerPoint Plug-ins" and "Best PowerPoint Templates" from Presentations magazine.
---