Platform: Microsoft Windows 95, 98, NT4, ME, 2000 and XP with DirectX 5 or higher.
PowerPoint Version: PowerPoint 97, 2000 and 2002
Processor: Pentium compatible processor with 32 MB RAM (48 MB when running Win NT/2000); 30 MB available disk space
Recommendations: A fast PC or - even better - a 3D graphics acceleration chip or board with 4 MB or more of video RAM. This is not required, but is very useful for speeding up the effects creation process.
Volume I: US$49
Volume II: US$49
Volume I and II: US$89
---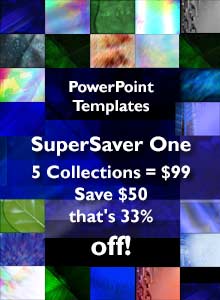 ---
---
---
Home > Other Products > Add-ins > CrystalGraphics > 3D Titles
PowerPlugs: 3D Titles
Grab your PowerPoint audiences' attention with customizable 3D title animations!
---
PowerPlugs: 3D Titles lets you add impressive-looking animated 3D title slides to your PowerPoint presentations in seconds. Each volume includes 30 pre-created 3D animations inspired by television and film. All the animations are customizable. And 3D Titles works right inside of PowerPoint!
3D Titles is extremely easy to use. Once installed, a new menu item will appear in PowerPoint's Insert menu. When you click "Add 3D Title Slide" you will see 3D Titles' intuitive, PowerPoint-style main dialog displaying a gallery of professionally created 3D title animations.
Simply pick the 3D animation you want, type your title (and optional subtitle) text and voila! — you're done. Your personalized 3D title, along with other artistic elements, will automatically animate together smoothly, just like the ones on TV.
3D Titles' Advanced... button leads to a rich editing environment which allows you to customize your selected 3D title animation by changing the colors, materials, sizes, orientation and other attributes of each of its elements.
Features At A Glance
Adds still or animated 3D title slides to PowerPoint presentations with just a few clicks!
30 animated 3D title effects per volume!
All animated 3D title effects are fully editable!
Also adds complementary sound effects!
Works right inside of PowerPoint!
Software updates are FREE!
---
Look at these PowerPoint templates:
---