Windows 95 through XP
PowerPoint 97through 2002
32MB RAM (64 MB RAM recommended)
70 MB available disk space (100 MB for both volumes)
Volume I: US$9.95
Volume II: US$9.95
Volume I and II: US$17.95
---
You might want to read these reviews on Indezine.com
Ultimate Combo
Slides That Win!
PhotoActive FX
Headings
The PowerPlugs site has more detailed info.
---

rChart Pro for Excel, PowerPoint and Flash
More Info...
---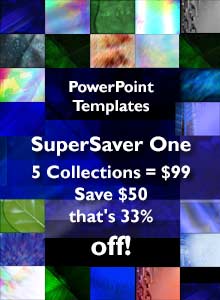 ---
---
---
Home > Other Products > Add-ins > CrystalGraphics > SuperShapes
PowerPlugs: Super Shapes
Direct everyone's attention to your key points!
---
PowerPlugs: SuperShapes adds television-style still and animated shape effects to your PowerPoint presentations.
SuperShapes goes way beyond the static 2D world of PowerPoint's AutoShapes with artistically designed, colored and animated 3D shapes such as arrows, buttons, text frames, banners, separators and more!
These professional quality shape effects will visually direct your audience's attention to your key points by pointing, surrounding, and underlining them.
SuperShapes is not a clipart package. It has as its foundation a powerful software engine that lets you easily browse and select from a wide variety of pre-created shape effects. It also lets you edit the effects to your heart's content. For example, you can change colors, timing, size, even proportions!
But, the greatest thing about SuperShapes is that you can usually get the exact effect you want with just a few clicks. Its interface is very intuitive. And it works right inside Microsoft PowerPoint, which helps make it even easier to use!
Features At A Glance
Plugs in seamlessly to PowerPoint 97, 2000, and 2002 (Office XP)
Over 140 still and animated effects per volume!
Buttons, text frames, animated arrows and more!
All shapes are antialiased!
All shapes are customizable!
Quick and easy to use!
Extremely affordable!


Samples
---
Look at these PowerPoint templates:
---