Platform: Microsoft Windows 95, 98, NT4, ME, 2000 and XP with DirectX 5.0 or higher (for Windows 95)
PowerPoint Version: PowerPoint 97, 2000, 2002
HD: 6.5 MB available disk space to install
Memory: 32 MB RAM (48 MB RAM recommended when running under Win NT 4.0)
Recommendations: A fast PC or - even better - a 3D graphics acceleration chip or board with 4 MB or more of video RAM. This is not required, but is very useful for speeding up the effects creation process.
Volume I: US$59
Volume II: US$59
Volume III: US$59
Volume IV: US$59
Volume V: US$59
Volume VI: US$59
All 6 Volume of Tranisations: US$249
---
You might want to read these reviews on Indezine.com
Ultimate Combo
Slides That Win!
PhotoActive FX
Headings
The PowerPlugs site has more detailed info.
---

rChart Pro for Excel, PowerPoint and Flash
More Info...
---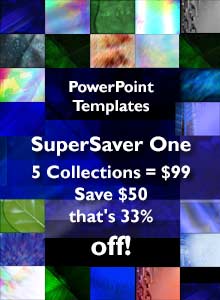 ---
---
Home > Other Products > Add-ins > CrystalGraphics > Transitions
PowerPlugs: Transitions
Keep your audience's attention with TV-style 3D transition effects!
---
PowerPlugs: Transitions adds sophisticated television-style 3D effects to your presentations. Its stunning visual effects and realistic, synchronized sounds are a sure way to keep your audiences' attention and make your message more memorable. The easy-to-use software plugs directly into PowerPoint, enabling you to add 3D animated transitions right from the Slide Show menu.
Four volumes of PowerPlugs: Transitions are now available — get them all, plus 9 additional PowerPlugs titles, in PowerPlugs: Ultimate Combo!
Features At A Glance
Energizes your presentations!
Over 70 unique transition effects per volume!
Add eye-catching 3D transition effects to an entire PowerPoint presentation with just 3 clicks!
Adds synchronized sound effects automatically!
Plugs into PowerPoint 97, 2000 and 2002 (Office XP)!
Incredibly easy to use!
Software updates are FREE!
More Details
Each volume of PowerPlugs: includes more than 70 transition effects, based on variations of sophisticated and eye-catching styles. Two sample effects from each volume are shown here...
---
Look at these PowerPoint templates:
---