Windows 95 through XP
PowerPoint 97 through 2003
12 MB available disk space (per volume)
Volume I: US$39
Volume II: US$39
Volume I and II: US$69
---
You might want to read these reviews on Indezine.com
Ultimate Combo
Slides That Win!
PhotoActive FX
Headings
The PowerPlugs site has more detailed info.
---

rChart Pro for Excel, PowerPoint and Flash
More Info...
---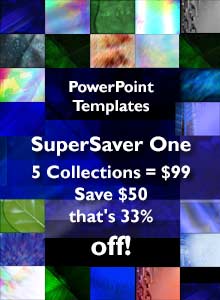 ---
---
Home > Other Products > Add-ins > CrystalGraphics > Music
PowerPlugs: Music for PowerPoint
Energise your PowerPoint presentations with upbeat background music!
---
PowerPlugs: Music for PowerPoint is an add-in to Microsoft PowerPoint that enables you to add upbeat background music to all your PowerPoint presentations in just two clicks. Music is a proven way to boost the enthusiasm level of your audiences!
PowerPlugs: Music adds looping music clips to PowerPoint slides, without annoying pauses or icons that must be clicked on to start the music during the presentations. There are two volumes available. Each volume has 30 professional soundtracks made up of 180 unique music clips. PowerPlugs: Music supports WAV files.
Features At A Glance
Each volume has 30 professional soundtracks including 180 unique music clips!
Proven to boost your audiences' enthusiasm levels to the max!
Inludes a variety of music styles that suit the needs of virtually any production!
Plugs into PowerPoint 97, 2000, 2002 (Office XP) and 2003!
Incredibly easy to use!
Software updates are FREE!

More Details
The PowerPlugs: Music for PowerPoint software makes working with music extremely easy to do. It adds the included music into your PowerPoint presentations without adding any annoying icons that you have to click on to start the music. The music starts automatically when you get to the first slide you've added music to!
The same smart software automatically instructs the included music clips to smoothly loop - for as long as you are showing the music-enhanced slides - so the music doesn't stop dead before you are done making your key point. And it automatically embeds its small-file-size music clips right into your PPT files, so transporting your presentations is a snap!
Our favorite part is that it lets you do all this with just 2 clicks. One click to pick the soundtrack, and one to click on the intelligent button called "AutoApply" which then performs its magic. You'll love that!
---
Look at these PowerPoint templates:
---