Microsoft PowerPoint 97 through 2003
Microsoft Windows 95 through XP
800 MB available disk space to install each CD
Favorite Templates I: US$49
Favorite Templates II: US$49
Favorite Templates III: US$49
Volume I (Blue): US$49
Volume II (Green): US$49
Volume III (Light Blue): US$49
Volume IV (Magenta): US$49
Volume V (Red and Neutral): US$49
Volume VI (Yellow): US$49
All 9 Volumes: US$249

CrystalGraphics
Slides That Win!
More Info
---

rChart Pro for Excel, PowerPoint and Flash
More Info...
---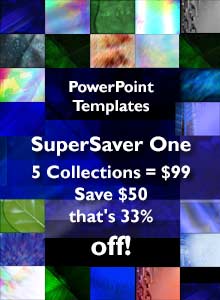 Home > Products > Add-ins > CrystalGraphics > PowerPlugs
PowerPlugs: Templates
Find the perfect look for your PowerPoint presentations with 30,000 spectacular newPowerPoint templates and backgrounds!
---
PowerPlugs: Templates brings you an enormous selection of all-new professionally designed PowerPoint templates and backgrounds. They'll give your presentations a neat, unified, and memorable appearance — and a sophisticated finish that today's audiences expect.
Each template includes a pair of slide masters — one designed for the title slide and another especially for the body of the presentation — with complementary background images for both. Loaded onto 6 CDs, the full set of 30,000 PowerPoint presentation templates includes over 60,000 gorgeous background images in all.
Each template's text boxes are carefully positioned and tinted to suit your PowerPoint design, then enhanced with pre-set font styles and layout for maximum readability. More than 2,000 of these cutting-edge PowerPoint templates also include sophisticated animated elements. Your audiences will be impressed!
Features At A Glance
Over 30,000 professionally designed PowerPoint templates!
More than 2,000 Power Point templates include animation!
The full set fills 6 CDs, conveniently arranged by background color!
Each template includes a Title Master and Slide Master, each with its own background (60,000 PowerPoint backgrounds in all)!
Sophisticated presentations backgrounds are specially crafted to enhance text, not drown it out!
Installation is optional — store these PowerPoint backgrounds and templates on your PC or access from CD!
Superior quality, competitively priced at just $249 for the complete set!

Boasting an incredible range of abstract designs, PowerPlugs: Templates delivers dramatic colors, inspiring artistic effects, and striking focal points. Yet, with your success in mind, every PowerPoint template is subtle enough to keep the content of your presentation at center stage
Samples:
---
---