Microsoft PowerPoint 97 through 2003
Microsoft Windows 95 through XP
800 MB available disk space to install each CD
Slides That Win! US$49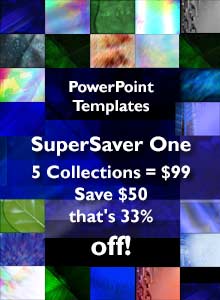 ---
Home > Products > Add-ins > CrystalGraphics > Powerplugs
PowerPlugs: Slides That Win!
Learn from the pros how to create dynamic and effective presentations!
---
Slides that Win! is a completely unique computer-based training product for presenters. Rather than just focusing on teaching you the PowerPoint toolset, this CD-ROM based tutorial focuses on teaching you the skills and concepts that are important for creating compelling slides and presentations — and shares some key PowerPoint tips and tricks along the way.
Slides that Win! covers an impressive range of topics important to any successful presentation. It teaches you a variety of ways to improve the readability, comprehension, and aesthetic quality of the slides you create. Plus, Slides that Win! reveals how easy it is to enhance your PowerPoint presentations with high-quality professional graphics and animated effects.
Slides that Win! is the definitive guide to revealing the insiders' secrets of creating compelling presentations.
Features At A Glance
Easy-to-use computer-based training product for presenters!
Includes over 300 visuals that illustrate the right way and wrong way to design your slides!
Hundreds of PowerPoint tips, tricks and notes in printable format!
Helpful quizzes to test yourself!
Works with PowerPoint 97 and above on any Windows PC!

More Details
Slides that Win! was created using PowerPoint so you can actually modify and reuse the examples! There are over 300 "before-and-after" PowerPoint examples demonstrate design, layout, and presentation concepts. You read a guideline, then see a good and bad example. You can instantly apply the tips, tricks and guidlines to your presentation.
Slides that Win! was created for CrystalGraphics by two professional presenters, Claudyne Wilder and Jennifer Rotondo, with over 20 years of collective experience in creating and delivering winning presentations, as well as teaching their presentation techniques to others.
---
---