The Ppted 2024 Calendar
You can download a free sample calendar with no obligations.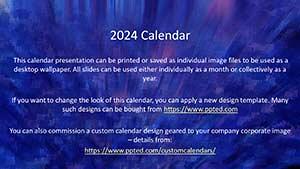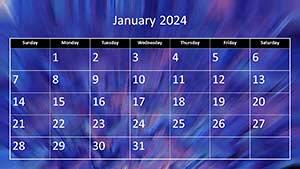 This calendar is a PowerPoint presentation, and individual slides contain monthly calendars. You can download this calendar as a zipped archive (172 kb).
---
Commission a Calendar
You can commission a custom calendar to further your corporate identity. Such calendars can be made available for your internal use. You may also want to provide such a calendar as a download from your website as a freebie download. Freebies like these ensure more visitors come to your site, and in return each slide of the calendar is a cost-effective advertisement for you, your product and/or your services.
---
What Do I Get?
You get a full twelve-month calendar in PowerPoint format. In addition, you can also use the presentation as a template for your company presentations.
---
How Much Does It Cost?
Each custom calendar costs US$100, and all calendars are delivered by e-mail.
Discounts are available for multiple orders. Please contact via our feedback form for more details.
---
Payment Procedure
Payments can be processed through secure server, and transactions can be made through credit card.
Direct payments can also be made through wire transfer or money transfer services.
---
How Long Does It Take?
It takes anywhere from two working days to a week. You are encouraged to provide your corporate logo, etc., so that your designs are in tune with your corporate identity.
Back