Most downloads include PowerPoint templates. However, for compatibility reasons, we also include the background images in the ZIP files you download. Wherever possible, use the PowerPoint templates because they include font and color choices, effects, and layouts in addition to just the backgrounds. Having said so, this page describes procedures to use downloaded images in various programs, with details on creating your own templates, wherever possible.
Choose the application you want to work with:
Microsoft PowerPoint
Apple Keynote
Canva
Corel Presentations
Lotus Freelance
Astound
Open Office, Sun StarOffice
---
Microsoft PowerPoint
All sets contain readymade Microsoft PowerPoint templates. You can double-click any template file to create a new presentation based on the template. You can also apply these templates to your existing presentations.
Back
---
Apple Keynote
All versions of Apple Keynote can open and work with PowerPoint files. All downloaded template ZIP files include both PPTX and POTX files. Additionally, you can use the background images included within the downloaded ZIP files.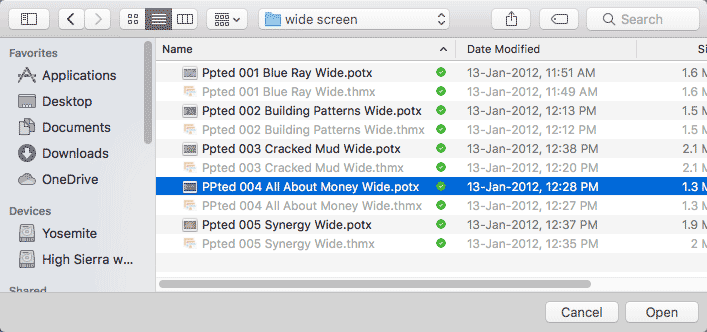 Figure 1: Opening PowerPoint files in Apple Keynote
Back
---
Canva
Canva cannot import or open POTX PowerPoint template files. However, you can import your PowerPoint PPTX files following these steps:
On the Canva home page, click the Upload button, highlighted in

red

within Figure 2, below.

Figure 2:

Upload a file to Canva

Doing so opens an upload box, as shown in Figure 3, below. Click the Choose files button, highlighted in

red

within Figure 3, below, and select an existing PowerPoint file from the ensuing dialog box. Alternatively drag an existing PowerPoint file into this upload box.

Figure 3:

Canva's upload box

Soon enough, your PowerPoint file will show up as a Canva presentation in your Recent designs area.
Back
---
Corel Presentations
With Corel Presentations, newer versions can open PPTX and POTX files straightaway. You can also create a new template on your own.
To place a background, follow these steps:
Download a blank template to begin with. You can get this from our Corel Presentations Blank Template page. Download, unzip and click either of the two files to open the template in Corel Presentations. Alternatively, you can work with any Corel Presentations file.
Choose Edit | Background Layer.
Choose Insert | New Background and give a name to the background.
Choose Insert | Graphics | from file and navigate to the backgrounds you downloaded from this site. Choose any one jpg file and press insert. Resize the image to cover the entire slide.
You can repeat these steps to insert as many master backgrounds as you want.
Save your template under a new name.
Back
---
Lotus Freelance
This procedure works similar for Freelance 97 and Millennium. If you're using Freelance 97 or earlier, you'll need the free JPEG import patch from the Lotus site for these techniques to work.
Freelance templates are better known as SmartMasters. To create a SmartMaster, you need a blank layout. Download <blank.mas> (zipped) here. Unzip and open blank.mas in Freelance.
Choose Presentation | Edit Backdrop.
Choose Backdrop | Page Properties to open the Backdrop Properties dialog box.
Click the down arrow next to the 'Pattern' drop down box and choose the bitmap option.
In the bitmap source area, click the browse button and navigate to the backgrounds you downloaded from this site.
Save your template under a new name.
Back
---
Astound
This technique works with Astound 8.
New Info: The product has been discontinued.
Astound loads with a dialog box offering various choices - opt to create a blank presentation.
Choose View | Template.
Choose Slide | Background.
Choose the Picture option in the resultant dialog box. The second last icon. Click the Load button.
Navigate to the backgrounds you downloaded from this site.
Save as a template.
Back
---
Open Office, Sun StarOffice
These instructions encompass StarOffice 6
Open the presentation component of StarOffice.
Opt for an empty presentation. Proceed through the next few screens using default options. In the layout dialog box, choose the blank option.
Choose View | Master | Drawing.
Choose Insert | Graphics and navigate to the backgrounds you downloaded from this site.
Resize the background image to fill the entire slide.
Choose File | Save As, and select presentation template in the resultant dialog box.
---
Look at these PowerPoint templates