Platform: Microsoft Windows 95, 98, NT4, ME, 2000 and XP
PowerPoint Version: PowerPoint 97, 2000, 2002
Processor: 32 MB RAM (48 MB RAM recommended)
Volume I: US$9.95
Volume II: US$9.95
Volume I and II: US$17.95
---
You might want to read these reviews on Indezine.com:
Ultimate Combo
Slides That Win!
PhotoActive FX
Headings
The PowerPlugs site has more detailed info.
---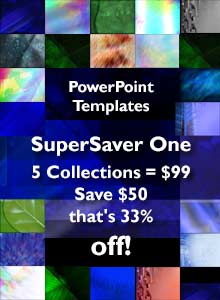 ---
---
---
Home > Other Products > Add-ins > CrystalGraphics > Headings
PowerPlugs: Headings
Give your PowerPoint presentations a designer look!
---
Each volume of PowerPlugs: Headings includes over 1000 professional-quality headings and coordinated backdrops for enhancing Microsoft PowerPoint presentations. They'll add style, depth and emphasis to your slides. Using them in your presentations will surely impress your audiences with a cutting-edge designer look.

Features At A Glance
Over 1,000 artistic slide headings per volume!
Headings are semi-transparent, so they blend with any background!
All graphical elements are re-sizable to fit your needs!
Extremely affordable!
Incredibly easy to use!

More Details
PowerPlugs: Headings includes four styles of headings per volume. Each style set includes over 300 graphic elements, including:
279 artistically-styled English-language words or phrases popularly used as slide titles in presentations
36 artistically styled letters and numbers that can be used to begin your own custom titles. The possibilities are endless!
8 professionally designed and visually-coordinated backdrops. You can use these to frame and enhance your titles as well as bulleted text, charts, photos and more!
Installation is simple. Once installed, users can easily select these attractive graphic elements through PowerPoint's Insert menu using the Picture > From File command. All images are stored in PNG file format at 1024 x 768 in resolution.
---
Look at these PowerPoint templates:
---